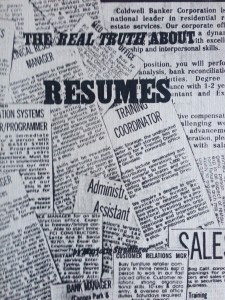 Congratulations on finding the most unique, best approach to job hunting available.
At last, my much requested resume workbook, The Real Truth About Resumes, has been updated, and is now available to you as a .pdf download for only $14.99 through PayPal.
I truly believe, based on thousands who have tried my methods, that if you follow this workbook, step by step, you will, indeed, get your resume read, you will receive interview phone calls, and most likely your resume training will land you the job you want.
Why? Because this workbook teaches you about what the employer is looking for.
People in sales know that it is not what you are selling, it is what your customer needs that matters.
That is the first principle of my approach to your job market–and what givens you an edge over all the other applicants wanting that same job.
My resume workbook will show you how to match your skills and experience to what the employer is buying (read: hiring).
Back in the late 1990s, I presented the print version of this workbook in Santa Monica, at the Mom's Who Work at Home Business Expo, presented by Dr. Laura Schlessinger.  I was also a workshop presenter at that Expo, and found many people needing this unique, marketing-style approach to writing and submitting a resume.
For those of you who prefer hands-on assistance, or even for me to write your resume, this site will offer you those options also.
I am going to be using PayPal for payment of the downloads, consults, and/or a custom resume.
Thanks for visiting. Happy job hunting! You have just given yourself a big advantage if you follow this workbook.